hair, nails, massage, and more
We are a full service Salon and Day Spa featuring 17 salon chairs, a private barber shop with 3 chairs, six manicure and pedicure stations, 8 treatment rooms for massage and esthetic services with a seasoned and experienced team of service providers.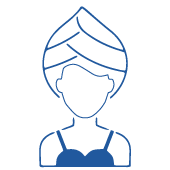 Exceptional hair and nail care at your fingertips, with cutting edge treatments and experienced practitioners.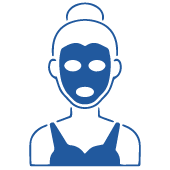 We offer a wide variety of skincare services to target all your needs from anti-aging to ultra-hydration and more.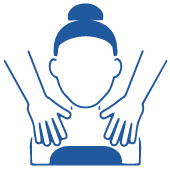 Give your body a tune-up with any of our full-service treatments that relieve tension and provide ultimate relaxation, 
We aim to bring you the best spa and salon services in town. As the owners of Refuge, an award-winning spa in Carmel and the salon at CVAC, we understand the importance of healthy beautiful hair, skin and a relaxing massage.
Browse our most popular treatments from massage to highlights or take a look at our full menu of services. 
We carry products that will help you maintain quality care of your skin and hair. You can call to order for curbside pick up, or come on in to purchase your items.
We offer a comfortable space with cutting-edge products, and practitioners with a wealth of knowledge. Every team member at Ambiance takes an innovative approach to provide the ultimate experience for their clients.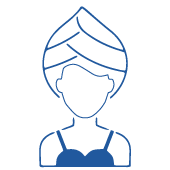 "All I can say is "wow!" I have been to lots of salons and spas and have had a number of different services, but my experience was amazing. When I arrived for my massage appointment, I was greeted by name and was made to feel so welcome. After a very short wait, I was escorted back to the massage area and was immediately hit with the scent of aromatherapy, which instantly relaxed me. My therapist was professional and adjusted pressure as needed, all the while checking in to make sure I was comfortable. The ambiance (no pun intended) was perfect! Thank you for the great service and please know I'll be back, but next time I'll book a longer appointment!"
– Laura VanDran
I had my brows waxed by Adele and they look fabulous! Adele is very professional and knows her stuff. When I arrived in the salon the gal was very welcoming and offered me a drink and let Adele know I arrived. The waiting area has lots of merchandise so I was able to shop while Adele was on her way to take me back to her room. Checking out was a breeze and the gal helped me decide what hair products would work best for me.

Barbi Hilt
I have been a client of Ambiance Salon for many years. I love that the salon offers many services (hair, manicures & pedicures, massage, facials, waxing) as well as a variety of hair, nail, & skin products that can be purchased. The employees are friendly & professional, and the facility is always clean. The salon also provides clients water, tea, & coffee. As a Claremont Club member, it is very convenient to have the salon on the premises. It is an integral part of The Claremont Club.

Karyn Mannis
Ambiance is the only place to go for local luxury. Whether it's for a quick chair massage or back to back relaxing treatments, the staff always makes me feel like a VIP. I especially love the clean, friendly, and customer first atmosphere. There's definitely no other place I would want to go to be pampered.

Jennifer Searing